Observations on the way to Santa Fe
Dateline: Chicago, Il
O'Hare Airport: 11:26 am
Berghoffs. Concourse C. Gate 21.
United Awful Airlines. Waiting.
Salvio gets us all into the Christmas spirit by putting up the decorations, laughing a lot while singing the strangest Spanish version of Silent Night I've ever heard. Strange times, these. Television over the bar blares out about how Trump is not a Republican at all, spoken by every Republican they can find except that pocket of Tea Party people not a whole lot different from other 'radicalized' humans roaming loose around the planet.
It's Christmas.
Lighten up Francis!
Merry Christmas from me and Salvio from here to wherever you are and whatever you are doing.
O'Hare Airport: 11:37 am
Hanging around Concourse C just off the gate. C21.
Carl was wandering, waiting to check out the upgrades to First Class. I didn't care because I've got a nice Economy Plus seat forward in the crummy Airbus. My seat is 8A. I didn't care about the First Class list until Carl, a retired preacher from somewhere in Northern Indiana I didn't recognize, held out his boarding pass and then looked up at the monitor. I now am praying that Carl be graced by whatever God he prays to with a First Class Seat. Carl's in 8B otherwise.
I have enough miles on United to qualify me for a trip from O'Hare to Mitchell Field, the other Chicago airport and that trip would not be in First Class. Carl's church flew him all over the world he says so there's hope for him. I didn't ask him what kind of cargo aircraft they flew him in because Carl seems like a nice guy and it's Christmas. The flight to Denver is like maybe two and a half hours. I can do two and a half hours. I think. The pressure might be good for my diet. I better go to the john before I get on the airplane unless Carl lucks out. C'mon God!
O'Hare Airport: 11:45 am
On the Concourse.
They are not supposed to be this nice. Anchor for WGN Television Katy Keoug set up right in front of me (I've got a front row seat facing the Concourse at Berghoffs. Katy not only didn't mind me putting her up here on Facebook but then came over to talk to me and she was terrific. She's here with the video team covering the "secrets of O'Hare", and she told me right away that you can get your teeth whitened while you wait for a flight! Her producer took our photo together but I didn't put it up on here. First I have to go to the men's room and see if I need to have my teeth whitened. You don't supposed she made that comment because of, well….
In Flight to Denver: 3:54 pm
Carl, the guy who made it into First Class on the last flight turned out to be a superman.
He actually offered me his seat on the overbooked flight so I was a bit aghast with embarrassment for putting him up on Facebook as a potentially rather uncomfortable seat-mate. I didn't take the seat, of course. I flew with Carl's replacement Timmy whom you see here with the permission of his Mom.
Timmy colors. I'm colorblind. I made believe I was not.
Now Timmy, upon arrival in Denver, thinks I'm just a bit slow or have incredibly bad taste.
Here's Timmy.
Merry Christmas.
Arrival
Santa Fe 10:36 pm
Santa Fe: 8:02 pm
This damned clock. Dinner at the Santa Fe Plaza Cafe because I had no reservations anywhere else and the food is to die for anyway even if a lot of the locals not doing so great come in there (my favorite kind) after normal citizens are gone. This clock they have on the wall transfixes me every time I'm in or near the place. I can't stop looking at it and I don't know why that is. The green chili was too damned hot, like it is this year because of the draught down south but I ate everything until my mouth went numb after hurting so much. No milk. The kitchen was closed by the time the fire really got lit. That damned clock will stay with me into sleep this Santa Fe night.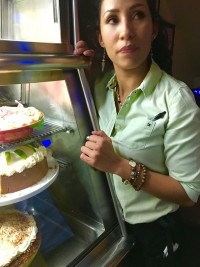 Plaza Diner, after closing. Tuesday night. Windy cold out there under the Christmas lights. Not inside the Diner.
Nueva.
Nueva shows off the restaurant's home made pies.
Good grief Charlie Brown. The burrito was not on my diet. The sopapillas were not on my diet. The honey, the chips, the guacamole were not on my diet and now the pies? Who in hell makes a pie so thick you can't even put a piece in your mouth without laying it on its side and digging in.
Not that I did that. I have my diet. Nueva looks that serious about the pies when she describes them but when she turns and smiles her eyes gleam.
I got out of there. The pies can destroy any diet.
Nueva can destroy any man.
Into the windy night and survival…